A New Golf Experience!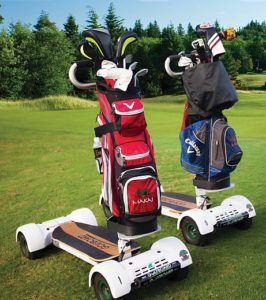 White Horse Golf Club is pleased to offer the Golf Board as an exciting new way to play golf.
Enjoy the feeling of freedom as you glide down the fairway between golf shots!
The benefits of using the Golf Board include:
Faster Pace of Play
A Better View of the Golf Course
Easy Access to your Golf Shots
More Fun while Playing Golf
Healthier than Riding in a Cart
Rate of $30 for 18 hole Rental
* IMPORTANT INFORMATION *
Each rider is required to view an instructional video prior to using the Golf Board. This is required even if you have used a Golf Board at another facility.
You will only need to complete this task once for White Horse Golf Club. Our Staff will be able to verify that you have seen the video once you submit your digital signature.
Advance reservation for Golf Boards 360-297-4468.
For your convenience we have provided a link to the training site.